A little ceremony was held at White Waltham on Saturday 14th January 2017, to celebrate Geoffrey Milsom's 70 years as a member of the Guild of Air Pilots and Navigators, (GAPAN).
A cake was supplied by Don Green and Bob Berriss, others in attendance were
Don Green, Bob Berriss, John and Carol Tompkins, Laurence Scott, Jean and
Ken Fostekew, two members of the Aero Club and Geoffrey of course.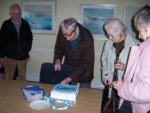 With thanks to Ken Fostekew for the information and the photographs – click on the photographs to enlarge.